Larry Cabaldon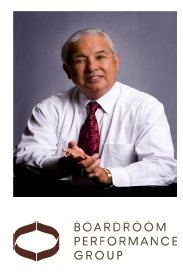 In the late 1980's and early 1990's, hundreds of banks were closed. Bank directors suffered greatly under regulatory pressure, civil money penalties and lawsuits. Larry was asked by the California Bankers Association, advisors, regulators and board members to come of up with performance solutions.
Larry developed a fast, cost effective solution to encourage the board, CEO, directors and advisors work together to achieve major results in 90 days. Most importantly, he helped save six banks from failing. More recently, he successfully used these solutions for non-profit, association, and private company boards that need fast, tangible results.
Over a two years ago, Larry saw another economic crisis emerging that would severely effect boards, so he left DHR International, a top 5 executive search firm, to launch Boardroom Performance Group https://www.boardroomperformancegroup.com/ to help bank boards survive and prosper, particularly in this era of economic and governance crisis. Previously he was with DHR International, a Big 5 retained executive search firm, as Executive Vice President and a member of the firm's Board CEO Practice.
Prior to DHR, Mr. Cabaldon headed his own executive assessment, board consulting and executive recruiting firm serving clients such as Bank of America, Security Pacific Corporation, Wells Fargo and other organizations. He was assessed over 500 executives and board members. He's spoken to CEO's on "How to Assess Fiduciary Performance", "Board's Role in Mergers Acquisitions", "Board Succession Planning: How to Create a High Performance Bank" "Governance Post Enron" and "Creating a Proud Legacy of Leadership and Value" and "How to Mobilize Boards to Exceed Regulatory Expectations".
Previously he was Director of Executive Search for Pricewaterhouse Coopers and a Director of Human Resources for a 400 employee one- bank holding company. He started his career with Union Bank with a group of 50 management trainees, many of whom moved to top management positions at Wells Fargo as described in the book "Good to Great". He was a director of the Forum for Corporate Directors for 14 years, the largest independent director group providing director forums, education and recognition. He was President of USC Commerce Associates, an 1800 member business school group and Chairman of Options for Youth, a non-profit that recovered over 3000 high school drop outs.
He helps boards/executives, regulators, investors, private equity firms, acquirers, venture capitalists, private companies and non-profits benchmark performance, select and maximize talent, improve results, and facilitate transactions that create value. His approach is based on setting appropriate performance criteria, interviewing and assessing leadership- an approach he developed from assessing hundreds of executives in financial institutions mergers, acquisitions and consolidations. Finally, he was asked to use the same techniques to assess Boardroom Performance-on behalf of investors, shareholders, CEO's, directors and regulators.
He also has recruited hundreds of executives and consultants and has participated in major consulting assignments with McKinsey; Co. consultants, Deloitte & Touché, outside counsel and others, which has given him a sense of major business, functional, governance, legal and strategic issues. He uses this experience to motivate the board teams to achieve major objectives in 90 days.